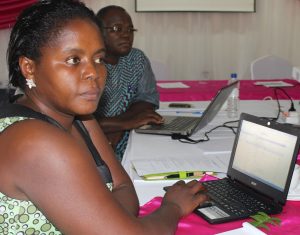 Carolyne Sserunkuma Maholo from Uganda  is CAN's Treasurer. She is a Lecturer, Kyambogo University in the Department of Community and Disability Studies, Faculty of Special Needs and Rehabilitation. She is also a PhD Candidate in Rural Development; Central Luzon state University, Philippines.
Maholo has a Masters in Development Studies; Bugema University, Uganda and PGD CBR,  Kyambogo University Uganda. Maholo has served in the Department of Community and Disability Studies teaching since 2004. She specializes in Community based Rehabilitation, Disaster Risk Reduction and Development.
She works with several stakeholders in disability and development and is a member of the Uganda Social protection sub Committee. She is a consultant in disability, development and facilitated development of disaster risk reduction strategies in several Civil Society organizations using community based approaches for sustainability.
Contact details:
Organisation: Kyambogo University, Kampala, Uganda
Email: carolmaholo@gmail.com
Telephone: +256 772900461
Skype:  carolyne.maholo
Address: P.O Box 1 Kyambogo, Uganda